The Facility chosen as Goldsboro Book of the Month
The Facility has been selected as Goldsboro Books' January 2011 Book of the Month.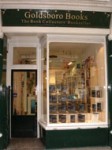 Goldsboro Books, run by Dave Headley and Daniel Gedeon, is a terrific bookshop – a genuine one-off, and the UK's largest specialist in first editions and signed books. Rupture, to my delight, was their January 2010 Book of the Month, and I couldn't be more thrilled that The Facility has also been chosen.
Exclusive signed and numbered editions of the novel will be available to Goldsboro's Book of the Month club members from the 1 January 2011. Non-club-members will be able to purchase signed and dated editions.
For more information, visit www.goldsborobooks.com and run a search under my name or The Facility. Don't forget to have a browse on their virtual bookshelves – they have some great signed first editions in stock, most of which are sold at the cover price.
My thanks to Dave and Daniel for their continued support. In a rapidly homogenising book trade, they offer something unique, and fully deserve the excellent reputation they have built.
Rupture makes Galaxy shortlist » « Dagger finalists announced