The Facility out now
The Facility is available now in all good bookshops.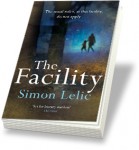 The book was officially released on the 7 January, and has so far been described as 'an unputdownable thriller' by the Daily Express and 'a startling vision of totalitarian Britain' by Metro.
Time Out, meanwhile, said I had found 'a niche as an author of solid, engrossing thrillers who could turn out to be a serial bestseller.' I would certainly settle for that!
The novel will be published by Viking in the US later this year. To get hold of a copy in the UK in the meantime, visit your local bookshop or check out the links listed here.
My thanks again to all at Goldsboro Books for hosting a fantastic launch party.
Event: The Book Stops Here 7/2/11 » « Rupture makes Galaxy shortlist