The Facility paperback preview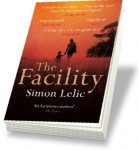 The Facility is available in paperback in the UK on 2 September 2011, and will look like this.
Like the hardback version, the cover was designed by Macmillan's Stuart Wilson. My thanks and congratulations to Stuart for coming up with such a striking design. I can't wait to see it on the shelves!