Event: Crime in the Court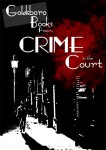 On 21 June I'll be joining an impressive list of crime writers at an event hosted by the excellent Goldsboro Books in London.
Staged to coincide with Independent Booksellers Week, the first Crime in the Court is set to become an annual event. It will be an informal gathering and a chance for readers to meet some terrific writers, including MR Hall, Chris Morgan Jones, William Ryan and CJ Sansom.
For a full list of authors attending, and to buy a ticket, click here. The event takes place from 6.30pm-8.30pm on 21 June.
Joining the conversation… » « Rupture makes Theakstons longlist