The Facility out now in paperback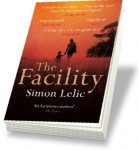 My second novel, The Facility is available now in paperback in the UK.
David Mitchell, author of Cloud Atlas and The Thousand Autumns of Jacob De Zoet was kind enough to describe the book as 'a heart-rate-destabilising novel about the outbreak of a sinister new disease, the authorities' reactions and a pair of would-be whistleblowers . . . This is one fiendish, impressive book.'
Click here for an online stockist, or visit your local bookshop to get yourself a copy. And, once you've read it, don't forget to let me know what you think of it by sending me a message.
The Facility named among Independent's best winter reads » « Rupture nominated for Macavity Award