The Facility named among Independent's best winter reads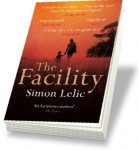 The Facility has been selected as one of The Independent's fifty best winter reads, books that are "the perfect accompaniment to a comfy chair and a warm fire".
Jonathan Ruppin of Foyles, one of five members of the selection panel, said, "With his fragile, sympathetic characters, Lelic has the same ability to make us look at the society we're creating as John le Carré."
My thanks to Jonathan for his kind words, and to The Independent for including my novel on their list, which includes some terrific new books, both fiction and non-fiction, as well as a number of classics.
For a full list of the fifty titles selected, click here.
The Child Who hits the shelves » « The Facility out now in paperback