The Child Who hits the shelves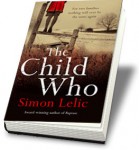 The Child Who is available now in hardback in the UK.
The book looks (and feels!) terrific. Pleasingly, it's also had some great early reviews. The Guardian asked whether The Child Who would be 'Lelic's breakthrough book'. 'It deserves to be,' the paper said. Keep updated on the latest feedback here.
Also, and as ever around a launch date, I've been doing lots of interviews and Q&As, so don't forget to follow me on Twitter to keep up with the latest news. Some of the links are also posted here.
Buy your copy of The Child Who now at one of these retailers, or at your local bookshop. The book will be published as a paperback original in the US by Penguin in March 2012.
Event: Harrogate International Festival » « The Facility named among Independent's best winter reads