The Child Who makes Dagger longlists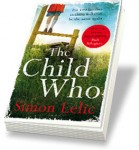 Rather thrillingly, The Child Who has been longlisted for both the Gold Dagger and the Ian Fleming Steel Dagger.
The longlists were announced last night at an event hosted by the Crime Writers' Association in London. The authors longlisted for each of the daggers are:
For the CWA Gold Dagger: Wiley Cash, N.J. Cooper, Colin Cotterill, M.R. Hall, Gene Kerrigan, Alice LaPlante, Simon Lelic and Chris Womersley.
For the CWA Ian Fleming Steel Dagger: Megan Abbott, Alex Berenson, Charles Cumming, Robert Harris, Ryan David Jahn, Alan Judd, Simon Lelic and Neal Stephenson.
Huge thanks to the CWA, and congratulations to all the other nominees. The shortlists will be announced later this summer, and the winners will be televised as part of the 2012 Specsavers Crime Thriller Awards in the autumn.
For more, visit the CWA website.
Why the world needs another blog » « Event: Literature Lunch, Brussels