Rupture (In the US, A Thousand Cuts)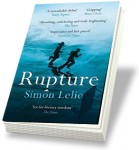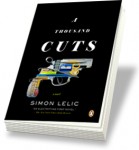 In the depths of a sweltering summer, teacher Samuel Szajkowski walks into his school assembly and opens fire. He kills three pupils and a colleague before turning the gun on himself.
Lucia May, the young policewoman who is assigned the case, is expected to wrap up things quickly and without fuss. The incident is a tragedy that could not have been predicted and Szajkowski, it seems clear, was a psychopath beyond help. Soon, however, Lucia becomes preoccupied with the question no one else seems to want to ask: what drove a mild-mannered, diffident school teacher to commit such a despicable crime?
Piecing together the testimonies of the teachers and children at the school, Lucia discovers an uglier, more complex picture of the months leading up to the shooting. She realises too that she has more in common with Szajkowski than she could have imagined. As the pressure to bury the case builds, she becomes determined to tell the truth about what happened, whatever the consequences . . .
Betty Trask Award WINNER 2011.
Shortlisted for the CWA John Creasey (New Blood) Dagger 2010.
Shortlisted for the Galaxy National Book Awards 2010.
Shortlisted for Macavity Award for best first mystery novel.
Longlisted for the Theakstons Old Peculier Crime Novel of the Year Award.
Longlisted for the Desmond Elliot Prize 2010.
Selected for Financial Times Books of the Year 2010.
Selected for New York Times notable crime books 2010.
Selected as one of Amazon's Rising Stars 2010.
Top 20 Books of 2010 - Lovereading.co.uk.
Praise for Rupture
'Brilliantly, and innovatively, constructed in a series of distinguishable voices . . . A tapestry of sympathy and condemnation in shockingly unequal terms.' — Betty Trask Awards judging panel

'Rupture is a brilliantly plotted detective story that kept me hooked. Lelic, once a journalist, writes crisp engaging prose in which every word counts . . . Taking the usual clichés of detective fiction, Lelic turns them on their head and arrives at a place of hope. A remarkable achievement.' — New Books magazine

'There's a buzz in the publishing world about Simon Lelic's debut novel, Rupture . . . [Lelic] is set for literary stardom.' — The Times Magazine

'A powerful debut exploring the effects of institutionalised bullying . . . Lelic's spare prose and multi-voiced narrative make this a gripping, disturbing read.' — Marie Claire

'Rupture examines one of the great horrors of our times – the school shooting. Slowly, painfully, by means of brilliantly presented monologues and spare narration, the causes are revealed, and they are even more shocking. It's impossible to believe this is a first novel.' — Donna Leon, author of About Face

'Set during a stultifying London heatwave, this is a disturbingly realistic, taut piece of writing . . . This impressively structured debut unfolds like an origami model to reveal its urgent central question . . . Lelic handles his harsh subject matter with great sensitivity, concluding on the most fragile note of hope.' — Guardian

'Outstanding . . . Artfully offering a range of perspectives on the events leading up to the fatal day, Lelic manages to make the murderer sympathetic as he sensitively explores the varying degrees of responsibility for the tragedy borne by others whose response to bullying was inadequate. This deeply human and moving book heralds a bright new talent.' (Starred review) — Publishers Weekly

'Absorbing, convincing and truly frightening . . . Lelic manages to evoke in crisp, accessible prose what it's like to work in a modern school where bullying is rife. Perhaps most terrifying of all is the author's gift for characterisation . . . The narrative is gripping . . . Lelic's novel fuses the police procedural and school genres, twisting many familiar situations and characters into the stuff of chillingly realistic nightmares.' — The Times

'Lelic has an exceptional talent for voice. This talent means the reader is yanked into the narrative, and teased into persisting . . . Lelic can write like a poet . . . The pace is as ferocious as the subject, and some characters are expertly grotesque. Lelic's novel may be his first, but you wouldn't know it, it is so controlled, yet confidently reckless.' — Independent

'Packs a gutsy punch.' — Daily Mail

'Rupture, it turns out, is not necessarily a crime novel but one which trenchantly addresses a host of issues: bullying, a lost generation of children at odds with society and the struggles of adults to come to terms with the cruelty in their own nature. It is a remarkable debut.' — Daily Express

'Simon Lelic's impressive and fast-paced debut borrows its structure from a standard police procedural, with a fish-out-of-water cop at its centre . . . What slowly emerges, however, is something more nuanced, as Lelic explores themes of bullying and complicity, taking swipes at the increasing commercialisation of Britain's state-school system along the way. An artful study of what theologians might term "the sin of omission", Rupture keeps readers guessing until the end.' — Financial Times

'Simon Lelic's gripping debut is draped in this torn social fabric . . . we are skilfully drawn into the plot by the competing voices . . . I see a TV film on the horizon.' (Four stars out of five, Book of the Week) — Time Out

'Lelic's first novel is impressive in its scope and structural daring. A third-person narrative inhabiting Lucia's mind alternates with first-person eyewitness accounts, and Lelic superbly captures the wildly different vocabularies and rhythms of speech of parents, teachers and pupils. This is a superior detective novel, proof that crime fiction can break free of the bounds of the genre into something much more complex.' — Daily Telegraph

'Confident and accomplished . . . [Lelic] captures the different tones of characters' voices brilliantly and the novel is a cool, controlled view of various kinds of institutionalised cruelty and corruption . . . his restraint is admirable and Rupture has none of the common self indulgences of debut novels. He is definitely a writer to watch.' — Spectator

'Lelic wastes not a word in this searing indictment of a culture inured to cruelty.' (Starred review) — Booklist

'Gripping . . . Lelic plays intriguingly with structure and builds his story into a disturbing depiction of oppression and cruelty.' (Fiction of the Week)' — Metro. Also selected as one of the newspaper's 'Crime Books of the Year 2010'.

'A strikingly original debut: cleverly plotted, highly topical, told in spare prose with coiled intensity. Like Jane Tennison in Prime Suspect, police detective Lucia May is a powerful central presence and a wonderful creation. Simon Lelic is a remarkable and fresh new voice.' — Joseph Finder, author of Vanished and Paranoia

'Each of the multiple narrators, from wary teenagers through embittered teachers through gossipy receptionists, is brought to life in deft, unerring detail. Their stories interweave to form a chilling, beautifully observed portrait of the monstrous cruelty that lies not only within human beings, but within our institutions, and the climate of absolute terror and helplessness it can create. A Thousand Cuts is ambitious, skilful, powerful, and hard to put down.' — Tana French, author of In The Woods and The Likeness

'Simon Lelic tells a fascinating and terrifying story in A Thousand Cuts. This innovative novel, rendered as a series of dramatic monologues told to Detective Inspector Lucia May, shows us a whole community in trouble. After a horrific school shooting with multiple victims, Detective May is the lone figure willing to dig out the truth about school bullies who were practised torturers. May's own daily life at the headquarters – she is the only woman on the squad – teaches her first-hand about how hatred can flower in an atmosphere of denial and collusion.' — Kathleen George, author of The Odds

'In his powerful, wrenching debut, Lelic takes a sadly familiar crime and delves into the equally familiar menace at its root: bullying. Detective Inspector Lucia May . . . [is] a timely, deeply sympathetic heroine.' (3.1/2 stars out of 4) — People magazine

'An electrifying first novel.' — The New York Times

'Keeps pages turning with a well-paced plot that engages seriously with the zeitgeist and maintains suspense to the last page . . . Lucia May is a marvellous character.' — The Australian

'It's been some time since I picked up a first novel and literally couldn't put it down. This tale of bullying, isolation, turning a blind eye and pursuing the truth is in essence a police procedural, told in the third person, but all the testimonies that build up the case are monologues, slowly piecing the whole picture together. It's about a school shooting and it's brilliant.' — The Bookseller