The Liar's Room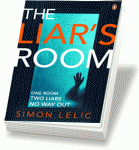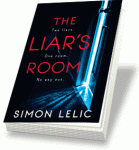 One room. Two liars. No way out.
Susanna Fenton has a secret. Fourteen years ago she left her identity behind, reinventing herself as a counsellor and starting a new life. It was the only way to keep her daughter safe.
But everything changes when Adam Geraghty walks into her office. She's never met this young man before – so why does she feel like she knows him?
Adam starts to tell her about a girl. A girl he wants to hurt. And that's when Susanna realises she was wrong.
She doesn't know him. He knows her. And the girl he plans to hurt is her daughter.
Praise for The Liar's Room
'Brilliantly tense . . . You'll try to outguess the plot but always be one step behind as the secrets and lies gradually unfold in ever more dark and disturbing ways.' — CJ Tudor
'This whirlwind of a thriller becomes unbearably tense. Smart, slick and very, very spooky.' — Sunday Mirror
'Had me in a headlock from the start and wouldn't loosen its grip until the last page.' — John Marrs
'Simon Lelic writes beautifully and he has a real talent for chilling stories that play mercilessly on our most disturbing fears.' — Cara Hunter
'The Liar's Room is a book you can't walk away from.' — Emma Kavanagh
'Spectacular. You must read this book. Plotted to perfection. A haunting, beautiful read. Five stars.' — Imran Mahmood
'A darkly disturbing thriller that hooked me from the first page. Highly recommended!' — Nuala Ellwood
'A wonderfully claustrophobic read exposing the fault lines in families and the terrible danger of secrets.' — Cath Staincliffe
'Taut, unsettling and brilliantly done.' — TM Logan
'The Liar's Room will have you up all hours of the night and, like SJ Watson's Before I Go To Sleep, is one of those books that leaves a lasting impact.' — Kathryn Croft
'The Liar's Room is brilliantly written . . . intense and claustrophobic. A gripping and memorable read.' — Dervla McTiernan
'Highly recommended . . . Tense and unputdownable. A fantastic read.' — Luca Veste
'Wow. If that's not one of the best novels of this year I don't know what is.' — Michael Wood
'A brilliant story which lives up to its clever premise. Complex characters that draw you in and won't let you go . . . Loved it!' — Amy Lloyd
'Really enjoyed it – the suspense is almost painful!' — Claire McGowan
From the blogs:
'I LOVED this . . . a considered, intelligent and claustrophobic thriller . . . Highly recommended.' — Liz Loves Books
'Possibly one of the greatest psychological thrillers of 2018 . . . Simon Lelic is a wonderful writer of psychological drama. He creates real, genuine characters and gets under their skin like no other writer I know.' — (5 out of 5) CrimeSquad
'The Liar's Room has Book of the Year written all over it. It is fabulous.' — (5 out of 5) Postcard Reviews
'Spell-binding . . . compelling . . . terrifically well written. [It] has firmly cemented Simon Lelic as an outstanding writer.' — Cleopatra Loves Books
'The Liar's Room by Simon Lelic is a well-paced, plot-driven thriller that examines family dynamics and the human tendency to place blame. …a compelling and thoughtful read.' — Shelf Awareness
'Lelic expertly tackles the heartache, and joy, that comes with parenthood as well as the aftermath of tragedy and our helplessness in the face of it. This one has the heart of a thriller but a lot of emotional heft.' — Criminal Element
'Wow! I loved the book from beginning to end. A fast-paced thriller that leaves you wanting to read more and more . . .' — Books on the Book Shelf
'This is a real page turner of a book . . . A terrifically engaging read.' — Prostituting my Literacy
'Brilliantly written . . . Clever and manipulative . . . A true psychological thriller.' — Live and Deadly
'A perfectly drawn thriller. It has the page-turning suspense, emotional tension, and head shaking shock value (read: very dark) we all crave! I LOVED IT.' — Jennifer – Tar Heel Reader
'Wow! This was one thrilling verbal ping-pong match! An intense game full of thrills, chills, secrets, and lies!' — (5 out of 5) Audio Killed the Bookmark
'Fiendish . . . beautifully designed . . . Excellent.' — Fully Booked
'Fast paced, claustrophobic and dark! Five stars from me!' — Rae Reads
'Hugely addictive, really clever . . . [a] fantastic thriller.' — Laura Patricia Rose
'Superbly written and really spell-binding writing.' — Reflections of a Reader
'If you love stories with drama, suspense and mysteries , this is the book for you!!' — Chazbookworm
'I have only just finished this book but already I want to read it again.This is definitely in the running for one of my favourite books of the year.' — BookerWorm.com