The Facility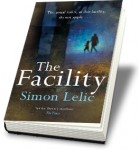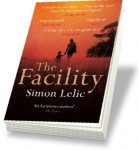 Henry Graves has dedicated his life to the prison service, losing his marriage and sacrificing his relationship with his daughter in the process. He is used to being uprooted, to dealing with angry and embittered prisoners, but he is unprepared for the challenge his new and secret assignment brings. Tasked with managing a government facility hidden deep in the countryside, Henry finds himself tested as never before: by the confused and frightened prisoners, by the sinister Dr Silk and, above all, by his conscience.
Tom Clarke, a precocious but naive journalist, has his own problems meanwhile. His career – and his life – is turned upside down by the arrival of Julia Priestley, who seeks his help in finding her estranged husband, Arthur, a dentist who has been arrested under severe new anti-terrorism legislation. The authorities admit they have taken him but will not say where he is being held – or why.
Discovering a trail that implicates those at the very top of government, Tom and Julia begin a quest to find Arthur, and the truth about his incarceration. But some people will stop at nothing to keep the facility's secret hidden, and soon the couple find themselves fighting for their lives.
A fast-paced and gripping read that raises complex moral questions, The Facility is a terrifying portrait of a society obsessed with security at whatever cost . . .
Click here to read an extract.
Selected by The Independent as one of the 50 best winter reads 2011.
Praise for The Facility
'A heart-rate-destabilising novel about the outbreak of a sinister new disease, the authorities' reactions and a pair of would-be whistleblowers. I don't know the ending yet – I'm half-dreading it – but this is one fiendish, impressive book.' — David Mitchell, author of Cloud Atlas and The Thousand Autumns of Jacob De Zoet

'The Facility nails the reader's attention from the off . . . Apart from his storytelling skills, Lelic has two potent weapons in his armoury, his dialogue which is scabrous and flint-edged and his characters . . . An unputdownable thriller.' — Daily Express

'A startling vision of totalitarian Britain . . . Lelic creates a magnificent sense of place and deftly maintains the pace of his thriller plot . . . Lelic's crystalline prose is frequently utterly seductive and his compassion deeply moving.' — (Fiction of the Week, four stars) Metro

'Lelic stormed on to the literary scene in January 2010 with Rupture, his gripping debut . . . Lelic's follow-up proves he's no one-hit wonder . . . Lelic has demonstrated again his talent as a storyteller, keeping his prose fast-paced and always giving his characters distinct, believable voices. With The Facility he finds a niche as an author of solid, engrossing thrillers who could turn out to be a serial bestseller.' — (Four stars) Time Out

'An elegant crime thriller about a falsely imprisoned man and his estranged wife, intent on finding the truth. They collide with a journalist investigating a secret government facility hidden in the countryside. Topical and fast-paced.' — (January 2011 'Top 3 must-read') Red magazine

'Timely indeed . . . Lelic has written a thriller for our times, whose plot is driven by a political machine that's oiled and ready in the real world . . . The plot grips not because of action scenes (although there are a few) but because we live in a world where feelings of mild guilt often slip into paranoia. This is Kafka meets Orwell in contemporary England.' — Sunday Herald

'Arthur is an unremarkable man, a dentist who's separated from his wife, so he can't understand what he's doing in a top-secret facility where most of the other inmates seem to be infected with a virulent disease. With his wife convincing a reporter to look into his disappearance, this is a classic story of a race against time.' — The Sunday Times

'A chilling look at a near-future Britain . . . Lelic's lean prose and intelligent approach to a controversial issue produce a riveting read.' — Publishers Weekly

'Clever, well-paced and with a clear message, this is an ambitious and important novel with shades of George Orwell's 1984 at its core.' — Edinburgh Evening News

'A home-grown, high concept thriller . . . [The Facility] is set in a dystopian near-future, where the British government, seemingly through popular choice, has invoked unprecedented security powers . . . All in all, this is a deeply unsettling read.' — (Book of the Week) Daily Mirror

'Lelic's second novel is grander in scale than his intimate and claustrophobic debut, Rupture, but his ability to create an atmosphere of tension and foreboding fits just as neatly into this frighteningly believable conspiracy thriller.' — (8 out of 10) Liverpool Post

'The book stands out for being resolutely unsensational, deriving its shock and horror from the truthlessness of the agents of government and the grim degree to which the "good" characters, as well as the reader, become aware of their powerless fragility before the state. Lelic's prose is spare, concise and fast-paced. The horror unfolds in a measured and inevitable flow, with the occasional surprising line of economically descriptive beauty. The Facility is an accomplished example of its type. And, in a world increasingly sceptical of the intentions of government, a book which is thoroughly of our time.' — Morning Star

'Lelic's second novel (the follow-up to his well-received Rupture, about a school massacre) follows journalist Tom Clarke as he investigates the fate of several people arrested under repressive new anti-terror legislation and taken to a mysterious government "facility" . . . This Orwellian set-up allows for several scenes of nightmarish strangeness . . . Lelic's feverish imagination and expert plotting are qualities that suggest a future as a novelist.' — Observer

'Vivid and compelling.' — Big Issue

'The facility of the title is a mysterious prison to which seemingly innocent British citizens are renditioned . . . As his first novel Rupture showed, Lelic can plot like a demon and write wonderful dialogue . . . Lelic has real talent.' — Guardian

'Former journalist Lelic brings the skills of his profession to bear in his fiction: timely topics relayed in the crispest of prose . . . In his latest, he dissects with chilling precision the consequences of unchecked governmental authority . . . Lelic makes numerous salient points about the suspension of civil liberties by an all-powerful entity even as he depicts the nightmare of an innocent man and his evolution from outright terror to dignified resistance. A fast-paced, topical read.' — Booklist

'A journalist gets involved when ordinary people are "disappeared" and incarcerated in a secret government facility where they are subjected to medical experiments. Already-existing terrorism legislation makes this story an unpleasantly plausible warning.' — Literary Review